Evaluation at the UCSF Epilepsy Center
This video demonstrates the electrode application and removal process during an ambulatory EEG. The process is the same for an EEG during an inpatient (in the hospital) stay in our Epilepsy Monitoring Unit.
Our Patient Navigators can be reached at 415-353-2134 and will be happy to help you. All new referrals are fully reviewed so that if you have had prior workup at an outside facility some tests may not need to be repeated. Give us a call today to arrange an evaluation.
Your primary care provider or neurologist can easily make a referral to UCSF:
Outpatient Setting (Clinic)
Ambulatory Clinic: Many of our patients begin their evaluations in our beautiful clinic. During a first clinic visit to the UCSF Epilepsy center you will meet with one of our Epileptologists who will review your history and previous epilepsy care with you. During your first visit you and your epileptologist can make a plan for your evaluation at UCSF. We are always happy to work with your primary doctors and neurologists, and can contact them to discuss your care after your visit. Our clinic is staffed by nearly a dozen epilepsy specialist doctors, and several nurse practitioners and nurses.
Short-term EEG Monitoring: We schedule appointments at Parnassus and Mission Bay for EEG studies in which stickers with electrodes are carefully placed on the head to record brainwaves for 30-120 minutes (routine or extended EEG), which helps our doctors understand your personal epilepsy condition. We also perform longer 24-48 EEGs which you can take home and bring back (ambulatory EEG). 
Order an EEG (routine or ambulatory) for your patient
Neuropsychology Evaluation: Neuropsychological testing is used to help us determine if your seizure disorder has created recognizeable cognitive patterns that may help us to understand both where your seizures come from in the brain. During this appointment our expert will guide you through a series of mental exercises, that will provide out team with information about your functional skills such as language, memory and comprehension. The testing is non-judgemental and done in a comfortable welcoming environment by a neuropsychologist who specializes in epilepsy. For patients that may need surgery (due to severe drug-resistant seizures), this testing also helps us predict how surgery may affect you.
Our outpatient appointments are available in-person in San Francisco, or virtually through video-conferencing from anywhere in the world.
Inpatient Setting (Hospital)
Epilepsy Monitoring Unit: Elective admissions for extended monitoring to characterize seizures or seizure-like spells over multiple days
Long-term EEG monitoring (LTM): Monitoring is available 24/7 throughout Parnassus and Mission Bay hospitals, including critically ill patients in the ICU and patients with acute neurological conditions who are transferred from other hospitals to our Neurohospitalist service.
Intracranial EEG: For patients with severe epilepsy that is resistant to multiple medications, other treatments like epilepsy surgery may be considered which requires further testing before it is pursued. The pre-surgical evaluation at UCSF is tailored to each individual patient's needs and may incorporate visits to clinic, admission to our epilepsy monitoring, and any of the procedures listed below. Many patients have already had extensive testing and evaluation before they come to UCSF and we are happy to incorporate the results of these so that tests are not needlessly repeated.
Diagnostic Studies and Advanced Imaging
UCSF Imaging Synthesis: the multi-modal approach
The UCSF Epilepsy Center excels at pre-surgical evaluation of epilepsy imaging, not only because of our advanced diagnostic testing, but also because our physicians are experienced in interpretation of the state-of-the-art in epilepsy imaging. We routinely use complex computer modeling to combine images from different sources to help create visually detailed maps of the brain where the electrical activity (EEG), magnetic field (MEG), metabolic activity (PET), blood flow (SPECT) and detailed brain structure (MRI) that allows unique detection and visualization of the sources and causes of seizures. Evaluating patients with this approach allows for the most sophisticated and accurate localization of the seizure source. Robert Knowlton, MD, MSPH is an expert in the use and analysis of multi-modal diagnostic information in the care of epilepsy patients. 
3T MRI with Epilepsy Protocol
Magnetic resonance imaging (MRI) is a noninvasive imaging exam that uses a strong magnetic field in order to provide images of the brain or other organs. UCSF's MRI has a very strong magnetic field (3 Tesla), which is especially well suited to the evaluation of epilepsy. Specifically, MRI provides exquisite views of brain structure.  The Epilepsy Center has worked closely with the Radiology department to develop specialized imaging sequences that provide the visual detail necessary to identify even the most subtle abnormalities. These type of findings are critical to help our epileptologists and surgeons determine whether there is a visible area of brain abnormality (lesion), which may be the source of your seizures.
Positron emission tomography (PET)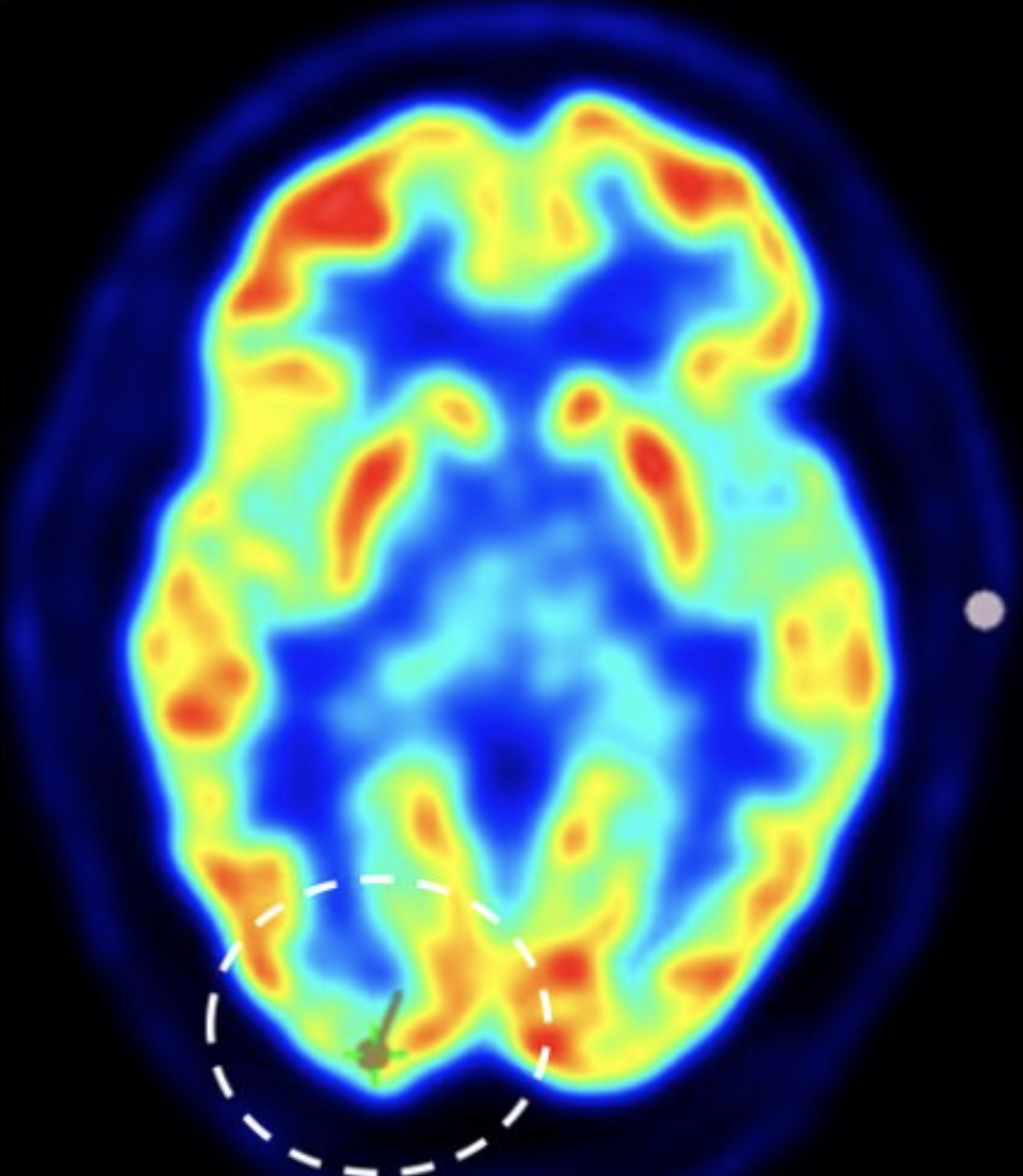 PET creates a map of the brain's metabolism and other molecular functions. Most commonly, PET is used in patients with epilepsy to help determine whether there are areas of the brain that have abnormally decreased metabolism. Such defects in function are often associated with brain tissue related to seizure generation.  So epilepsy center patients usually undergo PET imaging to help localize the source of seizures and to confirm findings from Video-EEG or MRI. PET can be particularly helpful in patients who do not have any definite abnormalities on MRI.
At UCSF, PET is combined with computed tomography (CT) in order to increase diagnostic accuracy. These studies can also be combined with high resolution MRI, resulting in a more comprehensive picture of brain structure and function. PET/MR is a new multi-modal approach to imaging, which exploits simultaneous acquisition of high-resolution structural and functional brain information. While the scanner is still currently only used as a research tool we hope to be able to learn whether this type of imaging could be beneficial and used regularly for the evaluation of pre-surgical epilepsy patients in the future.

Learn more about PET scans here
Single Photon Emission Computerized Tomography (SPECT)
SPECT scans are done using a small amount of a radioactive compound injected by vein at the very start of a seizure. The compound used is not harmful, but acts as a tracer, going to areas that are most active at the time that a seizure begins, and showing up as bright spots on scan images.  Another scan done is then done when the patient is not having a seizure.  Then these images are compared and an advanced analysis is done.  The difference in the pair of scans is statistically compared against normal differences and then mapped on to the patient's own MRI. These scans are a challenge to obtain and analyze but when completed can provide a remarkable "snapshot" of brain activity related specifically to the location of seizure related activity. They are usually reserved for patients with very frequent seizures and in whom other studies are not conclusively localizing.

Learn more about SPECT and other nuclear medicine scans here
EEG Source Imaging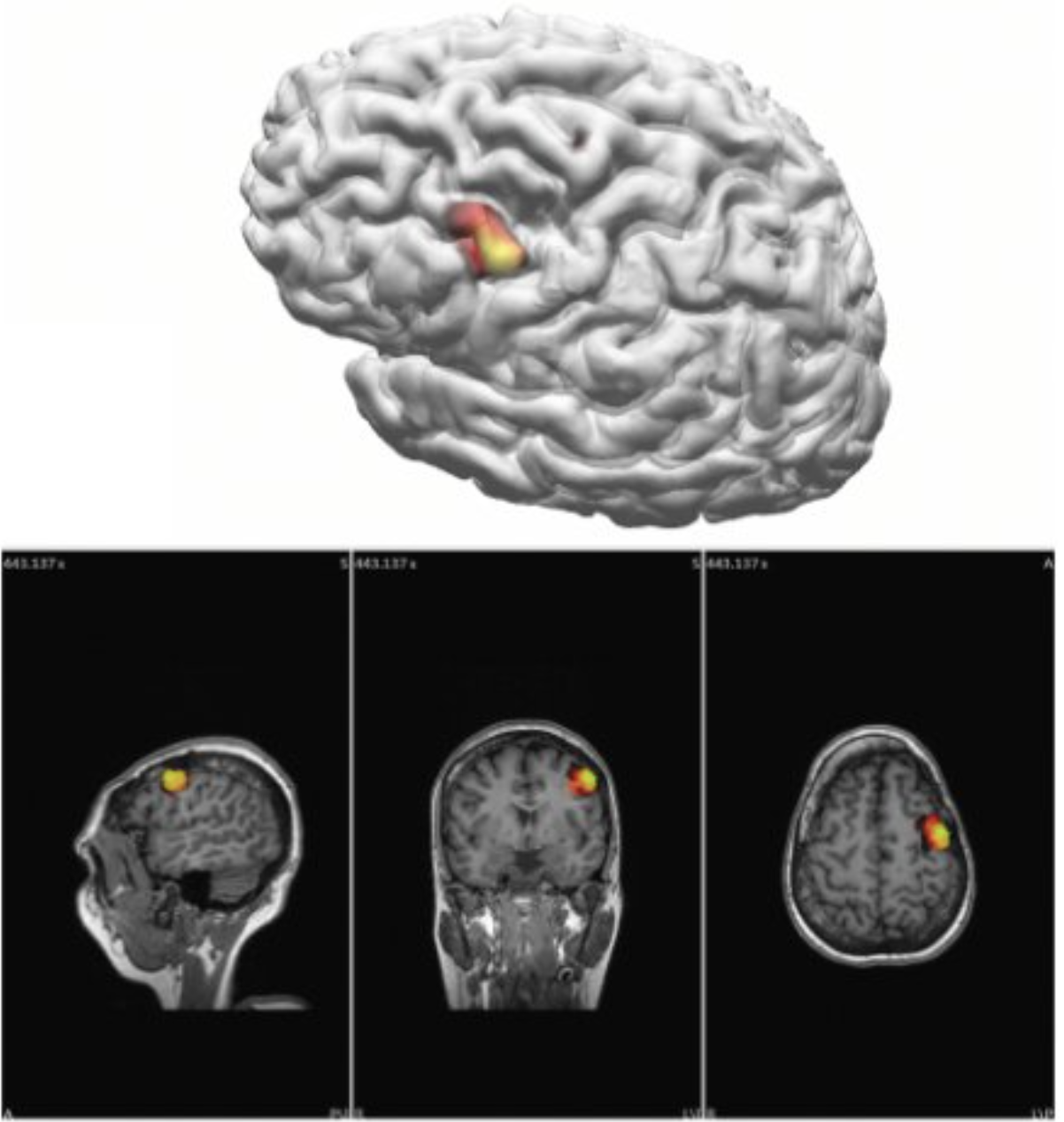 Our center has rare expertise in electrical source imaging (ESI), a process of using the information from EEG brain wave recordings to triangulate and locate the source of seizures and spikes. This can be thought of as similar to how our cell phone's geographic location can be pinpointed by cross-checking its position between nearby cell phone towers or satellites. This advanced method, led at our center by Robert Knowlton MD, can help pinpoint the potential location of where seizures start and it can be especially advantageous for patients who are considering surgical treatment for their epilepsy.
Magnetoecephalography (MEG)
MEG/MSI, like EEG, is a test that records brain wave activity. In the same way that EEG measures the electrical fields generated by brain activity, MEG measures the magnetic forces generated by brain activity. From this activity, the source of abnormalities can be modeled and mapped onto a patient's own MRI (this is known as magnetic source imaging (MSI)).  MEG can also be used to map functional brain activity like sensation and language.  MSI is usually done in people who are candidates for epilepsy surgery where there is not enough information from the other tests to make a complete plan.
MEG/MSI is available at only a few institutions in California, and UCSF is proud to have one the premier MEG research and clinical laboratories in the United States, the UCSF Biomagnetic Imaging Laboratory.  
Pre-surgical Evaluation
Video description of our general approach to epilepsy surgery considerations and some of the options for these treatents that move beyond medications:
The pre-surgical evaluation at UCSF is tailored to each individual patient's needs and may incorporate visits to clinic, admission to our epilepsy monitoring, and any of the monitoring and imaging procedures listed above. Many patients have already had extensive testing and evaluation before they come to UCSF and we are happy to incorporate the results of these so that tests are not needlessly repeated.

Epilepsy Surgery Multidisciplinary Conference: "Bringing it all together"
During our biweekly surgery conference we discuss individual cases with all members of our epilepsy specialists, our neurosurgeons, neuropsychologists, advanced practice nurses, epilepsy MFT and surgery coordination staff.
Each patient is presented individually and all aspects of their evaluation and care are taken into consideration.
For each patient, if surgery is likely to help them, a personalized plan is created along with other options for ongoing care and evaluation, including a post-surgery follow up plan and opportunities to participate in research studies if desired.
Deciding Next Steps
After the presentation of your case in conference you will be contacted by your doctor, or our epilepsy nurse specialist, to discuss the recommendations and plan
If you wish to proceed with the recommended surgery, we will assist with scheduling your upcoming appointments, the surgery itself, and follow up plans, all tailored to your needs.